Sharing Energy begins collaboration with Mitsui Sumitomo Insurance Company in Data Analytics
2023/06/27
Tokyo, June 27th, 2023: Sharing Energy Co., Ltd. (hereinafter "Sharing Energy", Founder and CEO: Kazuyuki Uemura) and Mitsui Sumitomo Insurance Co., Ltd. (hereinafter "MSI", President & CEO: Shinichiro Funabiki) have agreed to collaborate in the field of data analysis, utilising solar PV-related data and knowledge owned by Sharing Energy and insurance-related data and knowledge owned by MSI.
About Our Collaboration
Sharing Energy, since its establishment in 2018, has continued to offer its Share Denki, service which customers can install solar PV system without initial cost and save money on their electricity bills. Currently, the service has been well received by many customers and the number of Share Denki contract requests has topped 10,000.
MSI, on the other hand, not only compensates for accidents and disasters through non-life insurance, but also creates and provides value before and after compensation. The collaboration aims to contribute to a stable solar power generation business by using RisTech Analysis Service, one of MSI's initiatives, to identify the characteristics of disaster-prone areas and properties based on past accident information.
The two companies have started collaboration in the field of data analysis, in addition to the joint insurance contract on property insurance*, which has already been signed as a disaster risk countermeasure for Share Denki.
*Press Release:https://sharing-energy.co.jp/20230620-1/(Japanese Only)

The two companies have already carried out pilot data analysis. With the aim of identifying living areas of customers who have the potential to install Share Denki and those who would benefit more from Share Denki, the two companies analyzed the data, such as building age and total floor area, and visualized the estimated potential of some areas.
Sharing Energy and MSI will further expand the target area and use more data to improve its accuracy.
               [Example] Extraction of potentials based on specific target conditions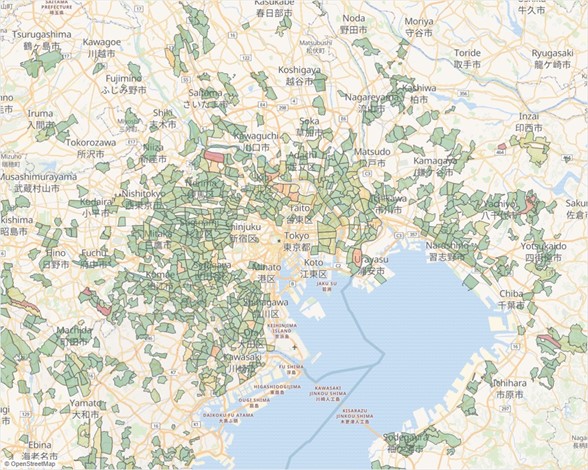 Mitsui Sumitomo Insurance Company, Ltd.
Established in 1918. Mitsui Sumitomo Insurance Company, Ltd. was established in October 2001 through a merger between its predecessors, Mitsui Marine & Fire Insurance Co., Ltd. and The Sumitomo Marine & Fire Insurance Co Ltd.. In April 2008, the company moved to a holding company structure with the aim of achieving a higher degree of business diversification across the Group. In April 2010, Mitsui Sumitomo Insurance Group, Aioi Insurance Co.,Ltd, and Nissay Dowa General Insurance Co., Ltd., merged to form MS&AD Insurance Group Holdings, Inc. The company provides a wide range of insurance products, including motor, fire and personal accident, as well as solar panels and marine and aviation insurance.
About Sharing Energy Co., Ltd.
Sharing Energy Co., Ltd., with the mission of "Transform the energy system through the creation of distributed energy resources", provides solar PV systems, Share Denki to both residential and corporate customers. In addition, Sharing Energy develops and plans energy management services.
Sharing Energy will realize a sustainable society through the promotion of self-consumption and local production and consumption of renewable energy.
Contact
Sharing Energy Co., Ltd., Corporate Communications, pr@sharing-energy.co.jp